In Memory
Lilburn Schulz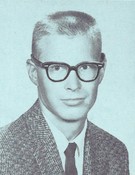 Lilburn Schulz
Lilburn "Sonny" Schulz, 59, of El Campo, died Saturday, April 12, 2003.
He was born October 22, 1943 in Brenham to the late Dennis P. and Anita Rathke Schulz. Mr. Schulz was a member of Christ Lutheran Church and also a Life Skills instructor with his wife at Brookwood Community in Brookshire. He was a Viet Nam Veteran, having served in the U.S. Army.
Mr. Schulz was preceded in death by his parents, and brothers, Virgil Schulz and Dennis Schulz, Jr.
Survivors include his wife, Karen Koenig Schulz of El Campo; sons, Jeff Schulz of Waller and fiancé Dawn Artis, Brent Schulz of El Campo and wife Rachael, and Bubba Schulz of Lindale and wife Stephanie; brothers, Del Schulz of Inez and Roy Schulz of Muskogee, Oklahoma; and grandson Wesley Schulz.
Funeral services were held Tuesday at 10 a.m. at Christ Lutheran Church with Pastor Art Weiss officiating. Interment will follow at Garden of Memories under the direction of Triska Funeral Home.
Pallbearers were Mark Kruppa, Frankie Peter, John Paul Appling, Alex Ortiz, Randy Fields and Mark Appling.
Honorary pallbearers were Carl Miekka, Rick DeMunbrun, Bennie Reck and Men for Follett Home.